We are thrilled to share that Ayurveda Health Home has been recognized as a 2023 TripAdvisor Travelers' Choice award winner for our exceptional service and hospitality. This prestigious award celebrates businesses that provide outstanding experiences to guests and consistently achieve high ratings on TripAdvisor.
What is the TripAdvisor Travelers' Choice Award?
The Travelers' Choice award honors the top 1% of businesses globally on TripAdvisor based on reviews and opinions shared by travelers. Winners are selected annually through an algorithm focused on both the quality and quantity of ratings.
Why Did We Win This Award?
Ayurveda Health Home has earned this recognition through our commitment to delivering personalized holistic healing experiences tailored to each guest's health needs and goals. Our authentic Panchakarma and Ayurveda treatments, welcoming service, and serene retreat setting have resulted in overwhelmingly positive feedback and satisfaction ratings on TripAdvisor.
What Our Guests Are Saying
Here are just some of the many excellent reviews from guests that contributed to us earning this prestigious Travelers' Choice award: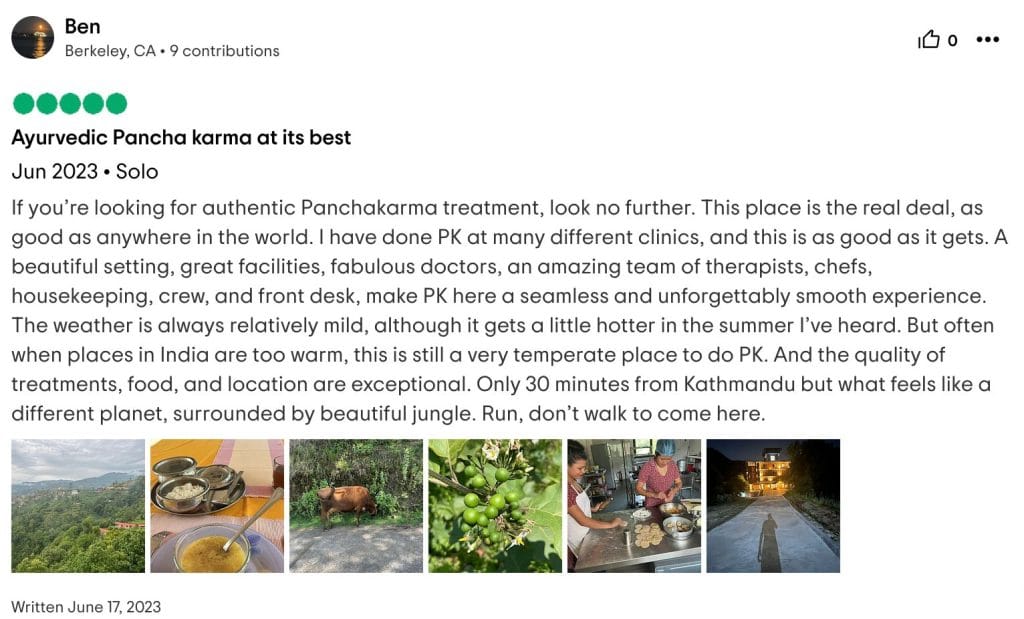 Amazing Ayurveda health home

"Amazing, No words to describe the experience.It was heavenly experience. I would recommend everyone to visit once and experience by yourself."

Happiness04075996856
"7 days Panchakarma was such a great experience here. Customized program.
Doctors and staff members are wonderful, make you feel like home and they are very accommodating with your requests.
Food is healthy and very tasty.
Center is surrounded by green scenery along with local flora & fauna."

Ismar C
"I have just completed a stay at AHH and I would like to that the wonderful team there especially Badri Koirala, Dr Vyoma and Dr Kabita for their kind care and passion to the healing power of Ayurveda. This facility seems unique in the world and I was most fortunate to have attended. I wish to return again for an extended stay! 5 star world-class experience!"

Jonny
Click Here to read full reviews of Ayurveda Health Home at TripAdvisor.
Celebrating This Achievement
We sincerely thank all our valued guests who took the time to share their experiences on TripAdvisor. It is feedback from guests like you that helped Ayurveda Health Home earn this award as one of the top retreats in the world.
We look forward to providing more personalized Ayurvedic journeys of healing and rejuvenation for many years to come. If you're looking for holistic wellness, we hope you'll choose Ayurveda Health Home for your next retreat!
Plan Your Ayurvedic Retreat With Us
If our award-winning service and real guest reviews have inspired you, it's time to book your healing journey at Ayurveda Health Home.